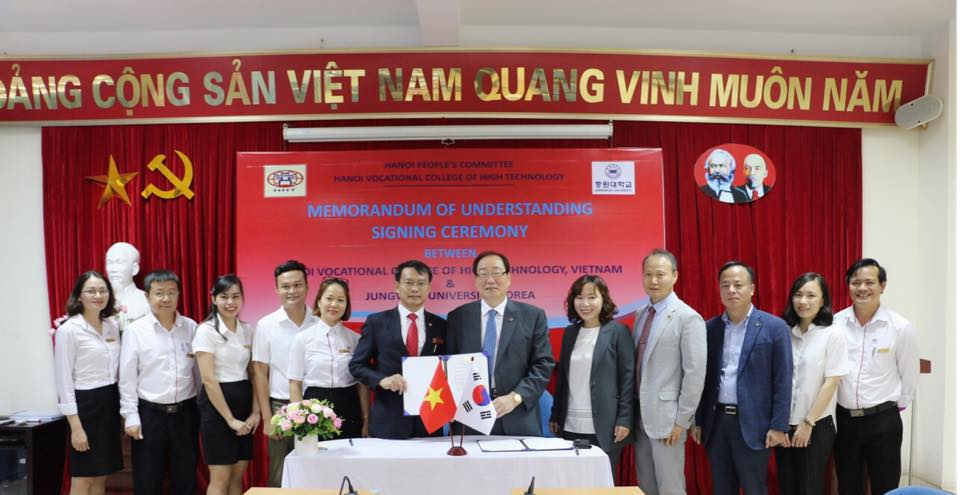 Introducing Korean professions
WELDING INDUSTRY (FOREIGN SCIENCE – ECONOMY)
5th Floor – Building A, Hanoi High-Tech Vocational College
Tay Mo Ward, Nam Tu Liem District, Hanoi City
Phone: (024) 3765 3896
Subjects of enrollment: Graduated from high school, junior high school or equivalent
Degree after graduation: Diploma of Vocational College, Intermediate vocational
Training time: 03 years (for vocational college training), 02 years (for vocational secondary training).
1. GENERAL INFORMATION:
      Currently, Korea has been the largest investor in Vietnam with a total direct investment of 59 billion USD. There are many Korean businesses that need a very large number of Korean interpreters. Therefore, the Korean industry is really hot in the market today and has attracted a lot of interest of the contestants and parents due to diverse employment opportunities and high levels of compensation in businesses Korea in Vietnam as well as huge demand for human resources from the host country. Catching that trend, Hanoi High-Tech Vocational College opens Korean language course to equip students with basic knowledge of language, culture, language practice skills, complementary trade knowledge. , office for learners to work in different fields after graduation.
2. TRAINING OBJECTIVES:
      The program of Korean language is built in the direction of specialized Korean language application, aiming to train human resources with knowledge, ethics, professional style and international standard of Korean. and using good Korean at businesses, meeting social needs, integrating language skills such as listening, speaking, reading in general Korean-oriented based on training programs at competency level Korean level 3 or higher. After graduation, students have many attractive job opportunities such as interpreters, tour guides, Korean teachers at domestic and foreign companies and corporations.
3. PROGRAM, FORM AND TRAINING TIME
In order to meet the needs of society, the Korean industry at HHT has enough training programs such as:
3.1. Short-term training for 3-6 months, 3000000d-6000000 VND / course, applicable for all ages.
3.2. The system of intermediate vocational training for 2 years, 570000 VND / month, applicable to students graduating from junior and senior high schools.
3.3. System of vocational colleges for 3 years, 650000 VND / month, applicable to high school graduates.
4. STANDARD OUTPUT
     After graduating, Intermediate students have the ability of international level 3 or higher; College students have international level 4 or higher Korean proficiency;
5. Job placement
The school ensures 100% of graduates will get a job.
Career orientation of Korean bachelor
Group 1: Interpreting Korean translation
Group 2: Tour guide
Group 3: Office administrative jobs or communication using Korean
Group 4: Studying in Korea, working in Korea