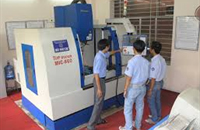 Introduce CNC machine maintenance profession
Occupation name : Introduce CNC machine maintenance profession
Job code : 6520263
Training level : College.
Training form: Regular
Admissions : Graduated from high school or equivalent
Training time : 3 years
1. Training objectives
1.1 General objectives
The CNC equipment maintenance training program provides students with basic knowledge and advanced knowledge in the field of Mechanical, Electrical-Electronics, Information Technology, in accordance with the development of scientific science. technology, students form and develop personality, morality, knowledge as well as basic skills to achieve success in work, meet the needs of society.
1.2. Detail goal:
* Professional knowledge and skills:
– Knowledge:
+ Ability to communicate and work in basic specialized English;
+ Ability to apply office information to vocational activities;
+ Explain the characteristics and characteristics of materials commonly used in the fields of mechanics, electricity, electronics, hydraulics and compressed air;
+ Analysis of properties, structure, operational principles, applications of: mechanical transmission structures, electrical and electronic equipment assemblies, hydraulic-pneumatic systems in mechatronics field;
+ Analysis of structure, operation principle, application of mechatronic systems applied in CNC machines;
+ Being able to apply technological and technological advances to practical work.
– Skill:
+ Using basic and specialized English in professional activities;
+ Applying informatics in office work to professional activities;
+ Read the technical drawings of the profession (detailed drawing, assembly diagram, principle diagram drawing);use computers to set up diagrams of CNC machine systems;
+ Plan, organize and implement the installation, maintenance and connection of the system;
+ Operating common equipment and CNC machines;
+ Detecting and fixing common and relatively complex errors of CNC machines
+ Monitoring the operation status of the CNC system;
+ Using application software for specialized and production management and organization;
+ Ability to organize team work, creation and application of high-tech science and technology, solving complex situations in the actual production and business; have industrial style, strict compliance with labor process, rules and discipline.
* Politics, morality; Physical and defense
– Politics, morality:
+ Knowledge of some common knowledge about Marxism – Leninism; Ho Chi Minh Thought;
+ Understanding the Constitution, Law, rights and obligations of citizens of the Socialist Republic of Vietnam;
+ Having knowledge of the Party's economic development guidelines, achievements and development orientation of the CNC equipment repair industry in Vietnam;
+ Having knowledge of the fine traditions of the Vietnamese working class;
+ Be loyal to the cause of building and defending the Socialist Vietnam, fulfilling the responsibilities and obligations of citizens; living and working under the Constitution and the Law;
+ Having morality, professional conscience, industrial behavior, sense of discipline and love of profession;knowledge of environmental protection, community of a citizen living in industrial society; healthy lifestyle in accordance with national customs and cultural traditions;
+ After graduation, it is possible to find jobs, create jobs for themselves and others or continue to study at a higher level.
– Physical and defense:
+ Sufficient health according to Ministry of Health standards;
+ Having knowledge about methods of physical training;
+ Understanding basic knowledge and skills needed in the National Defense – Security Education Program;
+ A sense of discipline and a sense of revolutionary vigilance, ready to fulfill the duty of national defense.
1.3. Job opportunities
Students graduating from the maintenance of CNC equipment at the vocational college level can work at:
– Direct repair and maintenance of machine tool systems, automatic production lines;
– Ability to manage and manage the maintenance team of mechanical equipment
– Ability to perform the installation, operation and technology transfer on machine tools, automatic production lines
– Ability to manage and manage workshops in enterprises producing, assembling, repairing and trading mechanical products;
– Ability to manage and work at the customer care department of enterprises providing mechanical and mechatronics equipment.
– Ability to create jobs;
– Continue to study to a higher level.
2. The amount of knowledge and course time:
– Number of subjects, modules: 35
– The amount of knowledge and skills of the whole course: 124 credits (3045 hours)
– Volume of general general subjects: 560 hours
– Volume of subjects, professional modules: 2405 hours
– Theoretical volume: 869 hours;
Practice, practice, experiment: 2176 hours